Dallas Midtown Cleaning | What We Do
Dallas Midtown Cleaning offers fully-integrated property maintenance solutions to all property types and sizes. Through our network of employees and vendors, we can provide every aspect of building maintenance. This all-inclusive approach will save you not only time, but money. Instead of trying to manage multiple vendors and find reputable providers at fair prices, one call to your local account manager gets the job done.
We can also implement a preventive maintenance program for your property utilizing years of previous experience in property management, to maximize the performance of your assets and minimize service disruptions and unexpected breakdown costs. This all-in approach to facility maintenance will greatly reduce the costs and headaches typically associated with facility operations. Should the unexpected occur, we have the staff and resources to have the problem resolved in as little time and with as little disruption as possible.
Our account managers continually monitor your property and maintenance records to identify areas of improvement and cost reduction strategies to save you money and downtime. Through this continual process improvement strategy, our customers spend far less on facility management than they would by managing multiple vendors themselves.
In addition to our full-service facility management programs, we offer individual services to fit the needs of our clients.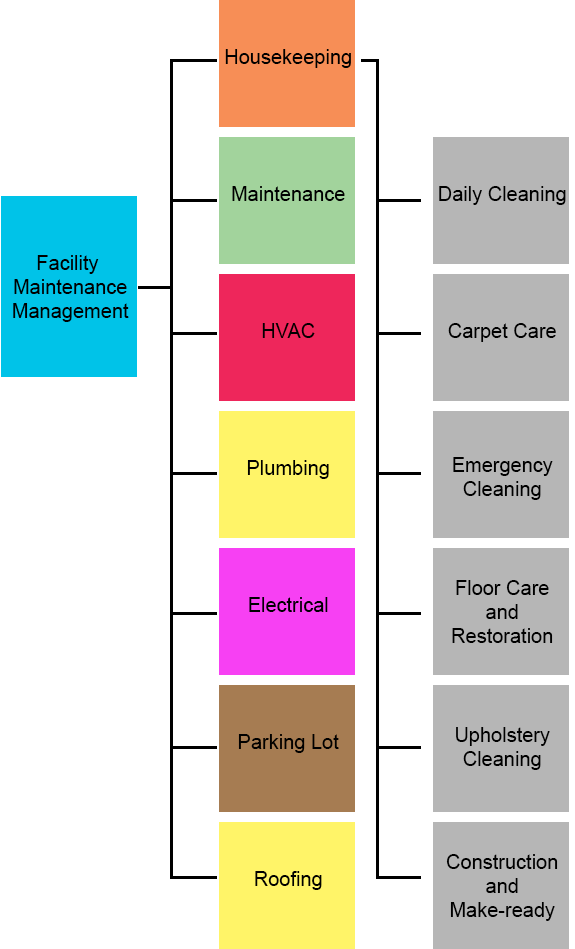 A Different Approach
We don't believe in the industry-standard "one-size-fits-all" approach to property maintenance. We want to be more than just another contractor.
Our goal is to become an invaluable member of your team. We make this happen by tailoring our services to your specific property and values.
A Different Result
By becoming valued members of our team, our employees take great pride in themselves, their company and the property for which they are responsible. The result: A different kind of clean.